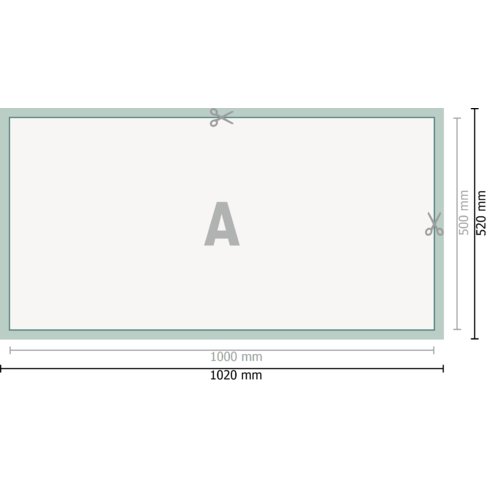 Artwork information PVC Tarpaulins, 100 x 50 cm
Data format (incl. 10 mm bleed): 102 x 52 cm
Trimmed size: 100 x 50 cm
Resolution: 150 dpi
Include a surrounding trim of 10 mm, important information should be at least 50 mm from the edge of the final format size
Fonts must be completely imbedded or converted to curves
colour mode: CMYK, FOGRA51 (PSO coated v3)
Maximum colour application of 300 %
We will not check for spelling and/or typographical errors
We will not check for overprint settings
Transparencies created with CorelDRAW must be reduced
Comments will be deleted and not printed
Form field content will be printed
Product details
Four-colour print on the front, reverse blank (4/0)
All materials have fire protection class 1 and are therefore flame retardant.
Washable
Optional: Eyelets for easy set-up along the border (distance between the eyelets approx. 50 cm).
Eyelets applied according to the text direction
Absolutely weather-resistant and therefore also suitable for outdoor use.
The classic advertising medium for scafolding, fences, bridges and barriers.
Additional items: Tie-Down sets

we deliver the matching number of tie-down sets for your banner size to mount it safely
to learn more about the tie-down sets, please see our info box

Only one motif can be uploaded for each print order.