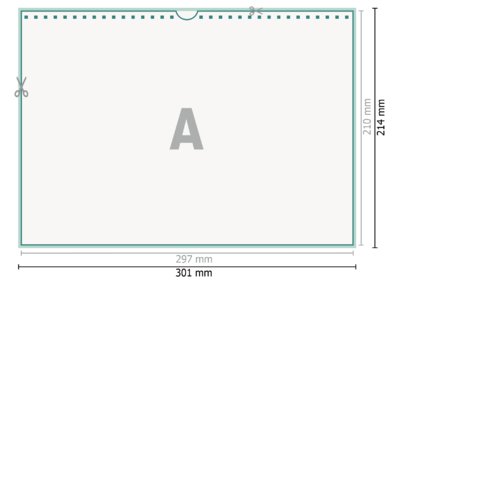 Artwork information Wall calendars with spiral binding 5/0, Landscape, special-effect colour gold, A4
Data format (incl. 2 mm bleed): 30,1 x 21,4 cm
Trimmed size: 29,7 x 21 cm
Resolution: 300 dpi
Include a surrounding trim of 2 mm, important information should be at least 4 mm from the edge of the final format size
Fonts must be completely imbedded or converted to curves
colour mode: CMYK, FOGRA51 (PSO coated v3) for coated paper, FOGRA52 (PSO uncoated v3 FOGRA52) for uncoated paper
Maximum colour application of 300 %
We will not check for spelling and/or typographical errors
We will not check for overprint settings
Transparencies created with CorelDRAW must be reduced
Comments will be deleted and not printed
Form field content will be printed
You can optionally order 5-colour print which includes the four base colours (cyan, magenta, yellow and black) plus one spot colour of your choice.
Artwork setup with gold colour:

Gold colour is printed onto the "normal motif"; all objects of the spot colour "gold" must be set to "leave out".
This is why, spot colour setup is required that contains your individual design.
Set up your design as a spot colour with the name "gold" and assign it the colour value "100 % gold".
The artwork files shall be provided as PDF; no JPEG or TIF format.
The area coverage of the spot colour "gold" on the entire page must not exceed 15 %.
Product details
Four-colour print on the front (four colours plus one spot colour), reverse blank (5/0)
Characteristics of gold colour:

gold colour boasts a metallic effect for truly luxurious designs
optimal for dark background and stark contrasts
gold colour cannot be compared to foil finish (no reflection, no "gloss effect")
gold colour looks best when applied to a large area – less suitable for spot finish, thin lines and fonts

with an unprinted grey back sheet made of cardboard
Note: To protect the title page during processing and transport, the calender is delivered with the back up, which you can then easily fold it backwards
Wire-o binding at the top according to text direction
wire-o binding in white, black or silver optionally with or without calendar hanger (incl. thumb hole)