Mints in cardboard boxes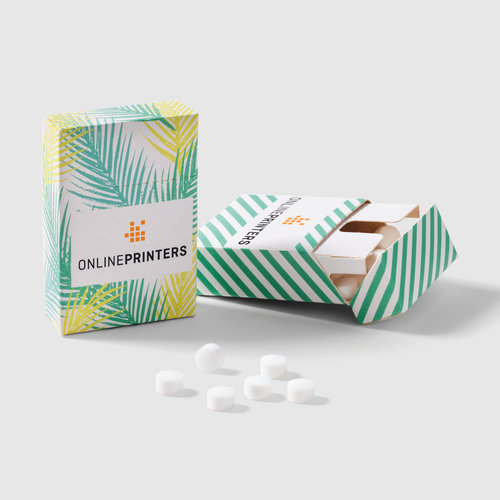 Artwork information Mints in cardboard boxes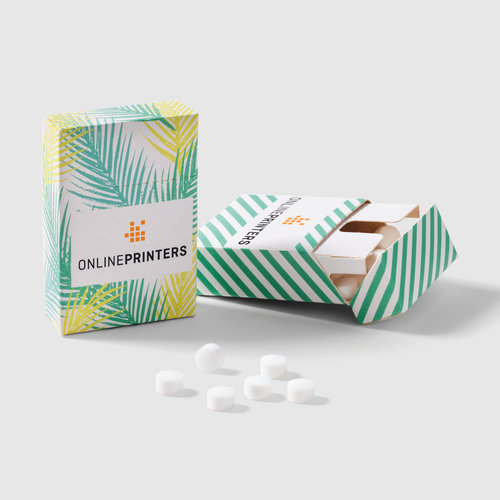 Product details
Single-sided colour print (4/0) back blank
Mints in flip-top cardboard boxes, 18 g
Three types of mints available:
Mint, 14 g (colour: white)
Mint, sugar-free, 14 g (colour: white)
Tropical fruit flavour, 14 g (colour: blue/green/yellow)
Ingredients: sugar; dextrose; release agent: E 470b; aromas; glucose syrup; colouring agent: E 171; coating agent: carnauba wax; thickener: gum arabic.
Ingredients Mints (sugar-free): sorbitol; flavours; release agent: E 470b; sweetener: aspartame. Excess consumption may have a laxative effect. Contains a source of phenylalanine.
Ingredients Fruit mints: sugar; dextrose; wheat starch; release agent: E470b; flavour; glucose syrup; colourants: E100, E131, E171; acidifier: citric acid; glazing agent: E901, E903, E904; thickening agent: E414.
Dimensions: 6.0 x 4.0 x 1.5 cm
Printed area: all-over
The statutory mandatory information such as content, best-before date and manufacturer/distributor are added automatically during production. The corresponding box must not be removed or repositioned in the print template.
Guaranteed shelf-life: one year from delivery when stored in a food-compliant manner
Store in a dry and dark place, between 14 °C and max. 20 °C, away from direct sunlight. Do not store near heat sources (e.g., heating).
Observe the statutory regulations for printable food contact packaging.
Please observe the information about the ingredients and nutritional information per 100 g.