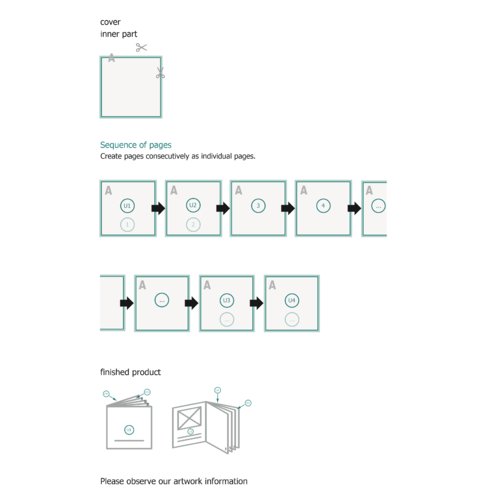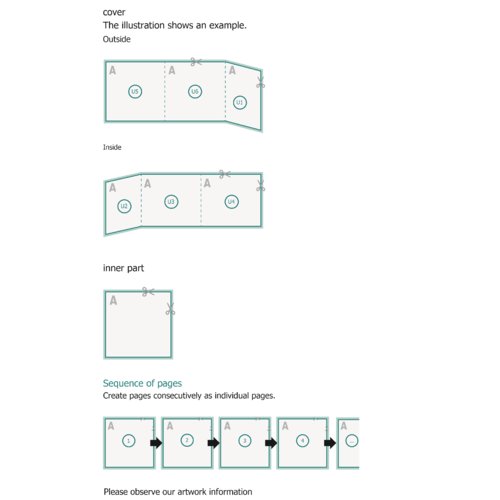 Artwork information Brochures, eco/natural paper, Square, A4-Square
Data format (incl. 2 mm bleed): 21,4 x 21,4 cm
Trimmed size (closed): 21 x 21 cm
When creating the print files, please observe the special characteristics for brochures:

Arranging the pages:

we impose the inside pages of the inside, i.e. arranging and positioning the pages on the printed sheet
we will need a PDF file with consecutive single pages
if you work in a layout program with spreads, please export them as consecutive single pages afterwards

Note: 32 inside pages equal 16 sheets (each with a front and a reverse side)

Resolution: 300 dpi
Include a surrounding trim of 2 mm, important information should be at least 5 mm from the edge of the final format size
Fonts must be completely imbedded or converted to curves
colour mode: CMYK, FOGRA51 (PSO coated v3) for coated paper, FOGRA52 (PSO uncoated v3 FOGRA52) for uncoated paper
Maximum colour application of 300 %
We will not check for spelling and/or typographical errors
We will not check for overprint settings
Transparencies created with CorelDRAW must be reduced
Comments will be deleted and not printed
Form field content will be printed
Product details
Four-colour print on the front and reverse (4/4)
Orientation: available in portrait or landscape orientation
Binding: high-quality saddle stitch or loop stitch binding
Please observe that in higher numbers of pages we recommend our higher quality adhesive binding catalogues (depending on the paper of the inner page, for example starting at 64, 84, or 100 pages). Saddle stitch is possible up to 128 pages, too, but the quality is much better with adhesive binding.
printed products on recycled paper are carbon neutral at no extra cost – learn more
brilliant colour reproduction and high print quality through ProcessStandard Offset
Note on optional bundling: From a certain brochure thickness (= paper weight + page count), we reserve the right to reduce the number of bundles.