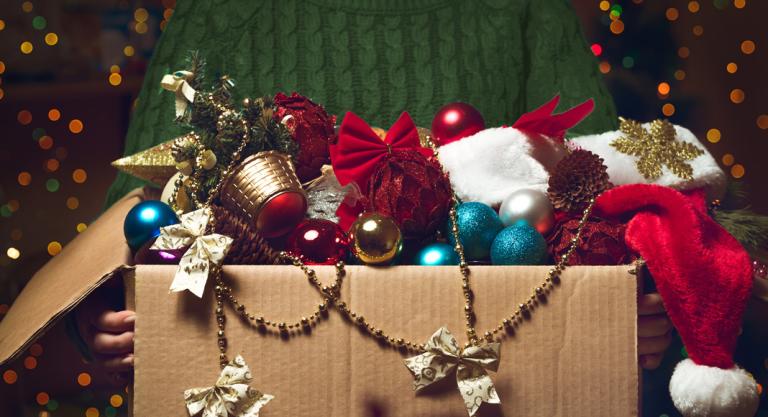 It is a well-known fact that everyone's money is a little looser than usual at the festival of love.Therefore, window displays should definitely attract the attention of the Christmas-sensitive public. The suggestions and proposals in this article show how this can be done.
Kitschy or modern? Objects or displays and posters? Or all of the above? When choosing your window display for Christmas, you should consider a few factors: Your company and offer, the target group, the competitive situation, trends and, quite pragmatically, the possibilities your shop window offers.
Table of contents
Which style for window dressing at Christmas?
There are many ways to create a pre-Christmas mood, and what pleases is allowed. What is almost always counterproductive, however, is a colourful hodgepodge of different styles. In the worst case, the nostalgic doll's pram stands next to the metal Christmas tree with LED lights. It therefore makes sense to decide on a style or on styles that harmonise with each other – and that fit your company. For example, while only decorations made of sustainable materials are possible in the unpacked shop, the computer shop can have a bit of blinking.
Classical style
The classic Christmas style is dominated by the colours fir green, red and gold, but only two of them at most appear in combination. Symbols that appear frequently are: nicely wrapped presents with ribbons, plain Christmas tree balls, Christmas trees, gingerbread, holly and fir branches.
Nostalgia and kitsch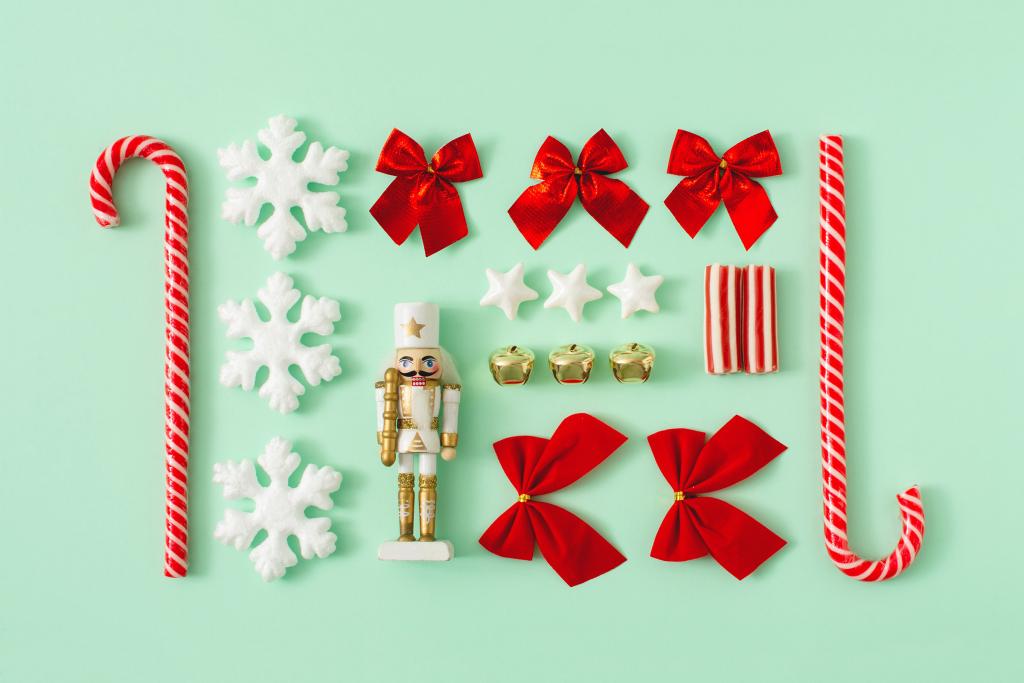 The boundaries here are fluid. Nostalgic has much in common with the colours and symbols of classic style and refers mainly to the 19th century. Typical items include toys such as rocking horses and drums, bows and images of children in the clothes that were common at the time. Whether this is already kitsch depends very much on the implementation.
Some "modern" versions of Father Christmas and his various helpers are certainly kitsch. But around Christmas, the decorations can be a little kitschier than at other times.
And then there are the Christmas tree pendants, which take kitsch to the extreme and virtually act as their own parody. These garish donuts, Father Christmases and hamburgers are popular with younger target groups.
Cool and modern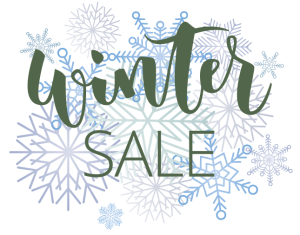 This style also uses classic symbols such as presents, bows and Christmas tree baubles. However, dark green, red and gold are deliberately not used here, but rather cool colours: Blue, silver, white, grey. Preferred materials for decoration are glass and metal.
New naturalness
In the spirit of sustainability, environmentally friendly materials and natural colours are currently in vogue. These include straw stars, origami hangers, pine and spruce cones as well as decorations made of wood, felt and wool in Scandinavian chic. Since this style propagates a certain restraint, it is not suitable for loud accents.
What promotional materials and decorative items to display in the shop window?
Simply put a decorated tree in the shop window – and that's it. Of course, this is also possible. This decorates the display area for Christmas. But to attract the attention of passers-by from afar, you need something more.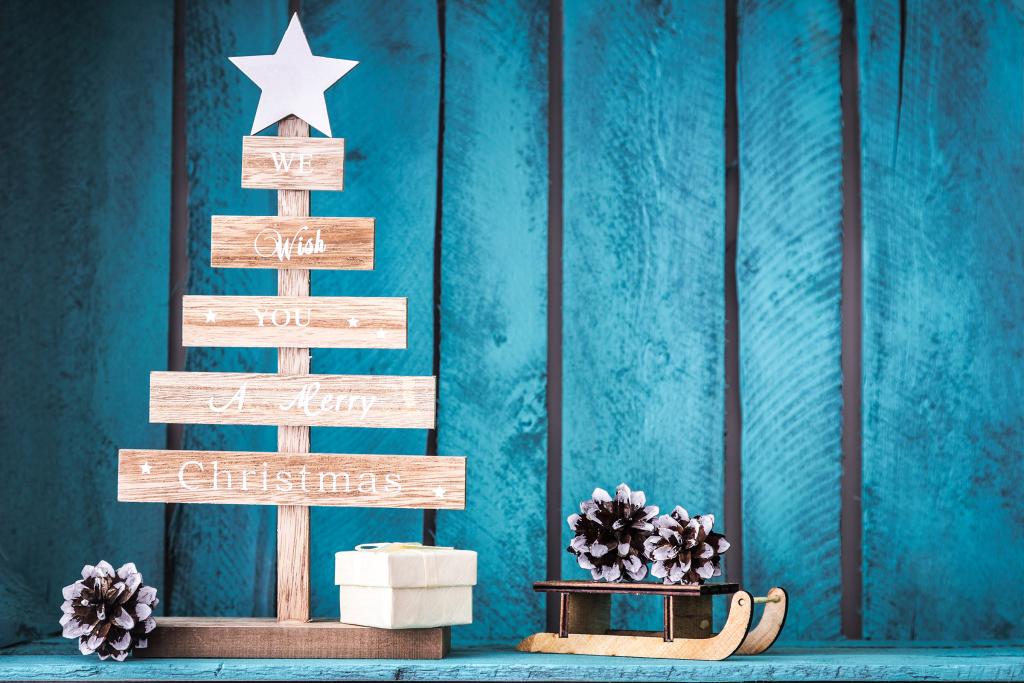 At a distance, score points with posters, window stickers, cardboard figures and walkway displays. Once customers are standing right in front of your shop, even the smaller-scale decorations can make an impact: nicely draped gift boxes, appealing Christmas tree tags, a wooden sleigh, colourful glass baubles, and on and on.
However, less really is more in this case. Overloaded shop windows confuse Christmas shoppers and are hardly attractive due to their arbitrariness. Better concentrate on selected decorative pieces that form an overall concept with your billboard.
Deco items
There are countless decorative items that exude Christmas flair as well as appeal to our emotions. Used selectively, they normally have their greatest effect. For example, a single old wooden sleigh attracts more attention than several small accessories scattered in the shop window.
So it's a matter of deciding in principle whether you want to focus on certain top products or simply create a Christmas atmosphere. Not only distinctly Christmas things come into question, but also some purely wintry items.
Examples of decorative items with Christmas spirit:
Fir tree with and without ornaments
Fir garlands and branches, pine and spruce cones, moss, holly and mistletoe branches, Christmas wreaths
Advent wreaths
Christmas tree balls and other pendants
Gift boxes
Cookies and other Christmas cookies
Stars
Bows (especially in red)
Candles, lanterns, light house
Renten, deer, roe deer
Nostalgic sleigh
Nutcracker
Rocking horse, drum, teddy bear, doll
Bells
Lights, garlands, light houses
Angels, Santa Clauses
Snowflakes
Jute bags, pointed hats
Christmas promotional material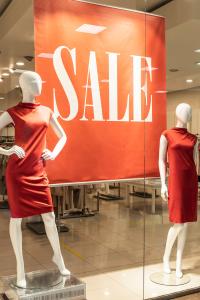 Nearly any promotional material can also be used for Christmas purposes. Here, too, it is advisable to concentrate on a few, but effective means. The decoration will be harmonious and therefore particularly effective if you use the same colours and complementary motifs for all elements.
All of this can be trimmed to look Christmassy:
Poster: The classic always works. It is especially useful if you are advertising Christmas events or certain offers outside the home.
Roll-up: Can turn into a handy tote bag to take along. As a Christmas decoration, however, it is probably more likely to be used stationary and scores points for its stability. If you choose a timeless motif, you can also reuse the roll-up the following year. You can easily design your roll-up online in the ONLINEPRINTERS shop
Stickers: Whether floor, all-purpose or window stickers – with this advertising material you are absolutely flexible. The floor stickers in particular make great Christmas signposts to particularly great offers.
Walkway displays: If you are allowed, lure people into your shop with attention-grabbing displays in the pedestrian zone or shopping centre aisles.
Cardboard display: Christ Child or Father Christmas in life size? Always catches the eye and can set effective effects in the shop.
Counter Display: The small version for the sales counter or shelf looks especially good when it echoes the motifs from the window display.
Packaging: If you treat your customers to their own bags and gift wrap, it makes sense to pick up on the colour scheme of the rest of the Christmas decorations here too.
Christmas articles: Branded and with a Christmas motif, beautiful small items complement the decorations and also serve as gifts for customers.
Christmas cards: Should you send any out, the defining motif from the shop may also appear here.
Christmas window dressing – which colours?
The classics fir green, red and gold are usually a safe bet. These colours are not only Christmassy, but also warm. Therefore, they convey a homely feeling of family security and childhood memories. Dark green and red often work even without a corresponding motif. A tablecloth in bordeaux, for example, is always associated with Christmas.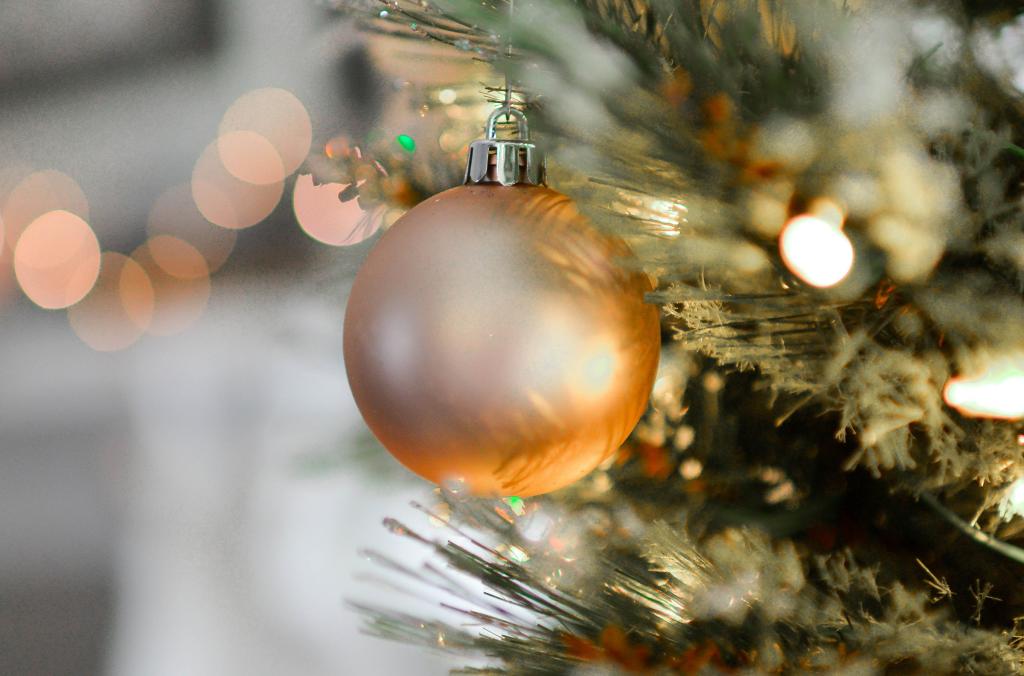 The "snow colour" white is also very popular. It can be used to decorate fir branches and trees and to create miniature winter landscapes. That is why white, with its rather cold aura, goes well with the classic, warm Christmas colours as well as with others.
Colour combinations of white or silver with turquoise, blue, grey and violet are also frequently used. This can look very noble, but also cool. The association with Christmas only arises with corresponding symbols such as Christmas tree baubles or gift boxes. The same applies to changing fashion colours. The natural colours that are currently in vogue, on the other hand, all have a warm radiance.
But which colours are ideal for your Christmas presentation? That depends first and foremost on what you have to offer. The classic Christmas colours and the natural colours appeal particularly to emotions and are well suited for handmade, sustainable, valued, food, toys, books and health services. The cooler colour combinations are right for the luxury segment, technology and trendy items.
Which motifs for window dressing at Christmas?
In principle, all of the above-mentioned decorative objects can be used as motifs. Whether they look traditional, kitschy, modern or funny depends on the implementation. For example, a reindeer: if it comes in the style of a poetry album picture, it is nostalgic. If it is a photo decorated with silver flickers, it is probably kitsch. If the reindeer is only stylised, it looks cool. If it is a cartoon drawing, preferably garnished with a snappy saying, the reindeer can be very funny.
So you need to think about the effect you want your decoration to have. Once the line has been drawn, it only needs to be followed consistently. This can also be done with alternating motifs that match in terms of style and theme.
In addition to the various Christmas symbols, winterly motifs also come into consideration for the decoration: snow-covered mountains, huts, trees, small churches and houses covered with snow, snowmen, children tobogganing, skating and skiing.
Create a concept for window decoration Christmas
Of course, you don't need a concept for a few pretty decorative figures in the shop window. But if you want to go all out in terms of Christmas decorations, you should have a plan.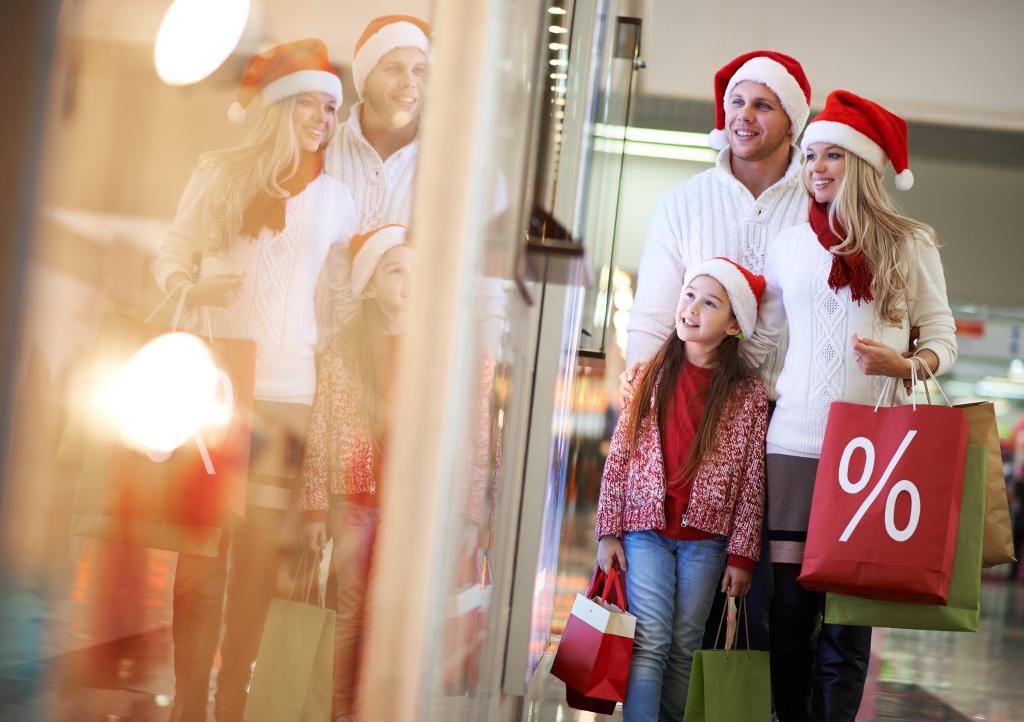 Planning Christmas decorations
There are three basic considerations you need to make in advance: Who do you want to address how? What means are you going to use for this? How much money is available for this?
The first question, together with your offer, determines the style. With the second consideration, you plan the advertising media: only stickers in the shop window or also display stands? Neither, but Christmas wrapping paper and branded giveaways? In the end, the budget will determine which advertising materials are shortlisted. Ask about the prices early on, which are often cheaper than you think.
Use coordinated promotional products
If you (have) designed your advertising materials yourself, you should give them all the same signature. Settle on the predominant colours, style and motifs. For example, if you choose silver and turquoise for the shop window and photos of Christmas tree baubles, a stylised reindeer in natural colours will look as if it does not belong in the shop.
With a uniform decoration, on the other hand, you steer your customers exactly to the offers where you want them. In addition, a coherent concept looks far more attractive and makes it easier for consumers plagued by pre-Christmas stress to find their way around.
Determine matching colours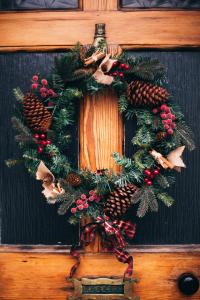 The question of colours is already somewhat limited by the determination of the style. Nostalgic and natural things are more likely to be associated with warm colours, modern things with cooler colours. This does not mean, therefore, that you have to stick to them stubbornly. You may want to use traditional motifs, but at the same time your corporate colours.
Fortunately, there are a few Christmas classics that can be reproduced in almost any colour: Christmas tree baubles, presents, bows, candles, tree decorations as well as some children's toys such as balls and drums. Conversely, modern motifs can also look very coherent in traditional Christmas colours.
Choose motifs
If the budget does not allow for more, a single motif can be staged very effectively: as a dominating sticker on the shop window, as a display in front of the entrance or as an eye-catching floor sticker. If other advertising media are available, the decoration can be continued from the outside indoors. If you want to use the Christmas decoration in the following years as well, it is advisable to go for timeless motifs.
There are several sources for suitable motifs:
Online design editor with professional free photos
With the "Online design" editor from Onlineprinters you can kill two birds with one stone: Firstly, you can easily create individual designs directly in the browser. For example, you can create print-ready cards, flyers, posters and other printed materials without additional software or graphic design expertise.
Secondly, many of our products in the online design editor offer you a huge selection of high-quality stock images at the same time. Thanks to the cooperation with the creative platform Shutterstock, Onlineprinters online design customers have access to professional images free of charge.
You get access to over 20 million different motifs and 70 different theme collections, which you can simply insert into our practical layout templates. There should definitely be at least one suitable motif for your Christmas window display.
This is how easy it is to "Design online":
1. select product: Specify format, paper & Co.
2. set template: Click on "Design online" under "Print data".
3. insert content: Insert logo, texts and images
4. send order: Confirm final design and order
Own material
You may have photos or graphics that can be used for Christmas decorations with a little editing. Also think about individual elements and possible background designs.
Let us create
If you have very specific ideas, you can have your own or external graphic designers create motifs according to these specifications or hire a photographer for professional pictures. However, you should plan well in advance. Especially in the run-up to Christmas, graphic designers are very busy and no longer accept orders at short notice.
Use an image database
Photos and graphics from an image database such as Shutterstock, Gettyimages, Fotolia and Bigstock are much cheaper.
On the subject of Christmas, there are also many images available from free providers such as Pixabay, Pexels and Unsplash. However, it's the free images that you see a lot – possibly with the competition.
Installing Christmas window dressing
At the latest when it comes to attaching and setting up all the advertising materials, it becomes apparent whether there is too little or too much. If the decoration looks too cluttered, you can simply leave something out or change some elements again and again in the course of the pre-Christmas period. This also provides a little variety. If the decoration is too sparse, it is easy to compensate with a few matching decorative objects.
When is the right time for Christmas decorations in shops?
It feels like Christmas decorations are starting earlier and earlier, and indeed there are some overzealous people who start particularly early. If you don't want to be one of them, play it safe by starting at the end of November / beginning of December. The ideal starting point: at the latest on the first Advent and at the earliest after Totensonntag. This memorial day always falls on the last Sunday before the first Advent.
Christmas decorations, but safe:
Christmas decorations outside your shop are equivalent to outdoor advertising and therefore require a permit. The best way to find out what is permitted is to ask your local government.
Be aware of fire hazards: Open fires are prohibited. If real candles are burning, please only do so under direct supervision. But other light sources can also cause fires due to strong heat development. Therefore, use fairy lights and the like only as intended by the manufacturer and do not place them near easily flammable material.
Safe fastening: Heavy decorative elements must be specially secured. This applies especially to stand-ups that can tip over and anything hanging from the ceiling.
The end of the Christmas decorations traditionally comes on Epiphany on 6 January. Those who like can keep their decorations until the end of that calendar week. What remains after that gives the impression of carelessness.
Ideas and trends for Christmas window dressing
Traditional and yet original? Do you even have to reinvent the wheel every year? No, you don't have to. But a few impulses can't hurt either. Perhaps you will find one or two suggestions here:
Trend: Naturalness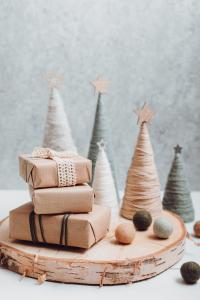 As already mentioned, natural colours and materials are in vogue. Where appropriate, predominantly green, brown, red and beige tones can be used. Decorative items such as spruce and pine cones can be collected completely close to nature and free of charge in the forest.
More than a trend: sustainability
Less a trend than much more a guideline for action and attitude: hardly any company can escape the idea of sustainability any more. Even those who do not use decoration in a natural look can contribute to this.
Check whether existing decorations can be reused. Pay attention to environmental compatibility when making new purchases. Flyers and cards, for example, can be printed on recycled paper. Stickers can be made of environmentally friendly materials or be vegan. You can also find suggestions in our shop under Eco & Natural Products.
Don't like: Anything environmentally harmful is less likely to go down well. When shopping, avoid disposable items such as tinsel and plastic Christmas decorations.
Trim your logo for Christmas
Not every logo is suitable for this, and depending on the industry, it can look out of place. But where it fits, a corporate mascot can wear a thick Norwegian jumper and the 3D lettering can be given snow bonnets. This motif can then be used for all advertising materials – from window stickers to packaging to giveaways.
Discreet price labelling in the shop window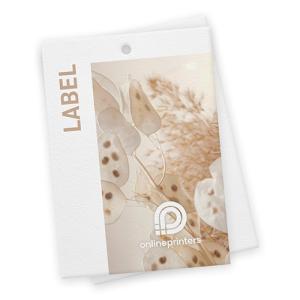 Sober price tags can considerably dampen the Christmas spirit. So it makes sense to include price tags in the festive decorations. The nicest (and most convenient) way to do this is with product tags in effect colours, for example.
They are available in various formats from rectangular to round, printed on one or both sides. Simply choose your main Christmas motif. That way, the festive decoration is all of a piece.
Design window glass as a frame
Set the scene for your display by using the window glass as a frame or "packaging". For example, simply place a festive gift bow on the glass as a sticker to wrap the contents of the window. Or create a rustic wooden window frame with fir branches, which supposedly offers a glimpse into a living room.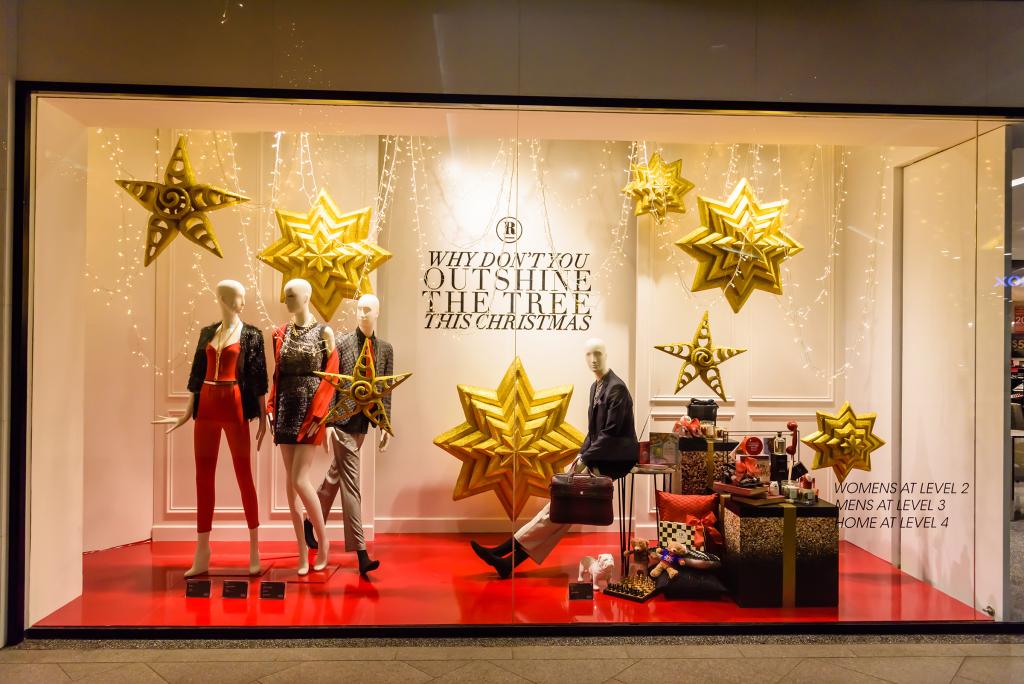 Other self-adhesive frame designs for the shop window are conceivable to match the products on display: an opened book cover for a bookshop, for example, or a Christmas drum for a music shop.
Telling a story
Offer your customers a little picture story: on the display stand in front of the shop, there are drawn children cavorting, perhaps having a snowball fight. The window stickers show the same children standing in amazement in front of the display. Inside, for example, displays again show the children with shining eyes. They can then reappear in the checkout area with ready-wrapped presents or shopping bags.
Too kitschy? How about something similar with a funny Christmas figure? This could be turned into a funny comic strip using the same approach.
Create your own Christmas character
If the Christmas business accounts for a large part of the annual turnover, it might be worthwhile to create your own Christmas figurine: in the bookshop, for example, a book with arms and legs and a red pointed cap, and in the perfumery a Christmas atomiser with a face. This figure would then also be the optimal hero for said comic.
Making gifts for decoration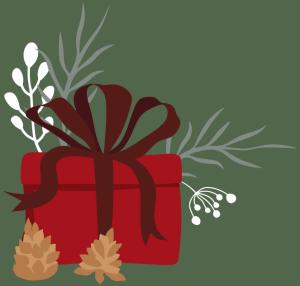 Whoever plans to give small gifts to their customers anyway, can make them part of the Christmas decoration. Beautifully packaged with the company's own Christmas motif, they can be displayed in the shop window or hung decoratively in the shop. Particularly creative people can use different coloured gift bags and combine them to create a large Christmas motif.
Image sources: perfectlab, Nadia Shlemina, Trong Nguyen, Suvorova Alexandra, Pressmaster, Mallmo, Netrun78, Jovana Dzo, KislinkaArt via Shutterstock; Daria Shevtsova via pexels.com
This article was first published on 30 October 2023 and updated in November 2023.