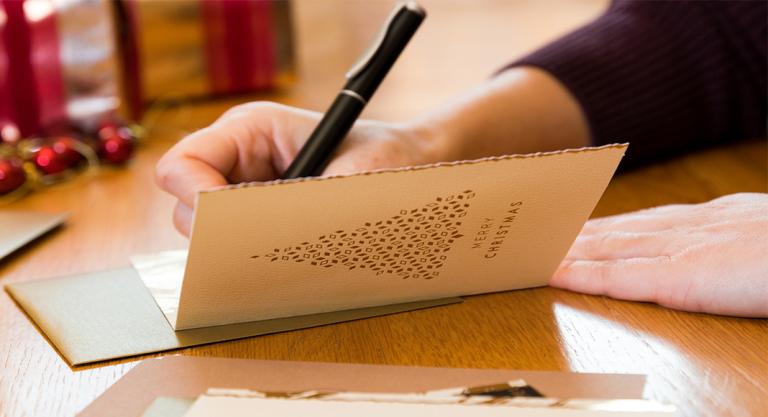 Every year, shortly before Christmas, the question arises: How do you succeed in making Christmas greetings businesslike and at the same time personal, heartfelt and contemplative – with a personal touch?Because it all depends on the right tone. To make it a little easier for you, we have put together free text templates for all cases.
There is definitely no way around Christmas greetings in business life. For many just a chore, these good wishes and end-of-year thank-you notes fulfil an important function: they express appreciation and can be used to thank customers and partners for their loyalty or successful cooperation. But how do you write Christmas greetings that are both businesslike and heartfelt?
The right tone is important: professional with a personal touch. Because beware, with some lovelessly cobbled together text or the sparse card that bears the invisible stamp "mass mailing", you are more likely to achieve the opposite. The recipient gets the feeling that the sender does not consider him important enough to make an effort. And hand on heart: sometimes that is the case. But you should never let that show on a Christmas card.
Content
What to consider when making business Christmas wishes
1. High quality
It doesn't have to be classy textured card. But it should be a few levels above thin writing paper to make the addressee feel valued. A professionally printed folded card with a matching envelope is always a good choice in this respect. To show off, Christmas greetings on exclusive paper or a card with effect colours are suitable.
You don't have to make a distinction between cards for customers, partners or employees, but can use the same design for your Christmas greetings. The higher the number of cards produced, the lower the production costs. Words added by hand provide the personal touch. Especially if you have a limited Christmas budget, you can save money this way.
2. Personal address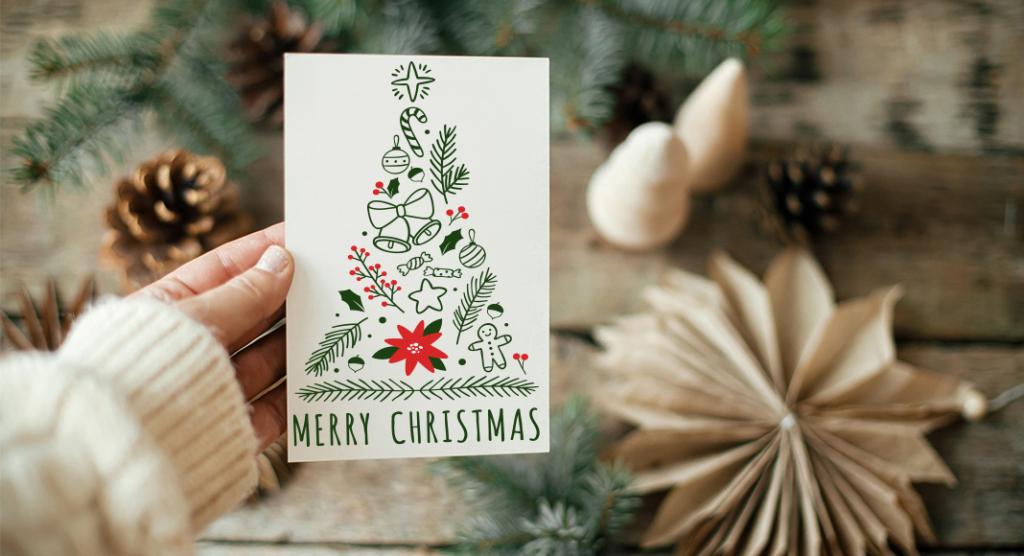 Personal address means not only that the addressee is called by name, but also that he or she is addressed directly with a few words. It is therefore advisable not to print too much text on Christmas cards produced on a large scale, so that there is still space for handwritten additions. Alternatively, you can order inserts and write personal words on them.
With such personal notes, it is best to mention events that create a sense of community for both sender and recipient. Or refer to certain preferences of the customer or business partner. Especially during the reflective Christmas season at the end of the year, it is a good idea to look back on projects or milestones that have been mastered together.
3. Forget no one
Sure, it's not nice if the Christmas card comes along with the charm of a scatter article, but you shouldn't scatter too finely for the feast of love either. If you only think of individual members of a team, you inevitably step on the toes of everyone else. Therefore, either put only those on the list with whom you have personal dealings or one deputy per team.
Forgetting individual members of a team is more than embarrassing. It is better to check the list several times and preferably maintain it throughout the year. This avoids unnecessary hectic towards the end of the year.
4. Christmas greetings – business and stand out from the crowd
With many business contacts, Christmas cards pile up quite quickly. The tenth Christmas tree and the eighth sprig of holly no longer stand out. If you want to be remembered by your customers and partners, you have to go for something unusual or unique.
Everything that deviates from the norm catches the eye. This can be a rare paper, Christmas colours that differ from the norm (traditionally green and red), an unusual shape (how about round greeting cards?) or a motif that has never been seen before.
If you like it equally unusual and funny, incorporate your own photos: the staff in reindeer costume, the core product of the house in a Christmas hat or a little comic that fits the occasion. Cards with such a little entertainment value will definitely be remembered.
5. As an accompaniment or solo
If the Christmas greeting is merely an addition to a gift, it is also sufficient if it is on a one-page card with a few personal words. If the customer or business partner only receives good wishes, an elaborate double card is more advisable.
A little tightrope walk in this respect is the Christmas card that states that the budget will be invested in a charitable donation instead of gifts. In this case, the card should also appear classy, but not too ostentatious, but rather simple.

Who gets Christmas mail?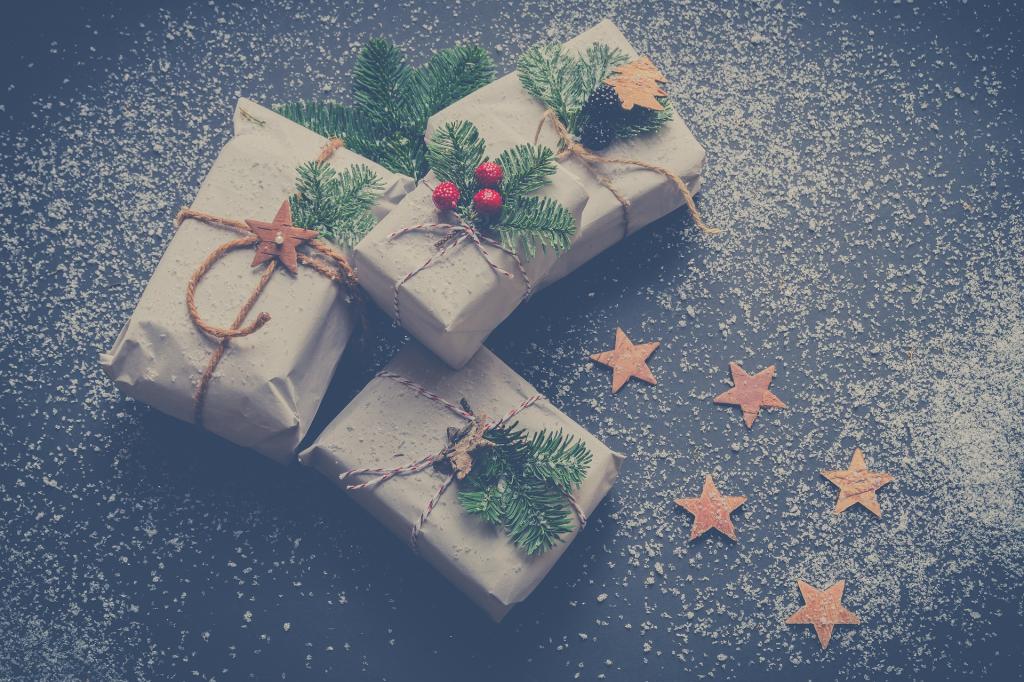 Customers and business partners often receive Christmas cards as a matter of course, but sometimes it can also be very appropriate to send employees a small gift at the end of the year for the services they have rendered.
In many companies, lists of addressees are divided into categories. Premium contacts receive more valuable gifts than the B and C contacts, or indeed any at all. Less important partners "only" get a card. It is therefore all the more important that the card is attractively designed and includes an individual or at least personalised text.

Christmas greetings – business text templates for all occasions
You can modify our suggestions for your own purposes or adopt them completely as they are if they just fit. We have tried to cover all areas, sometimes a little more formal and contemplative, sometimes a little more relaxed – suitable for different target groups and partnerships.
Content – Christmas greetings business.
1 – Card to accompany a gift; 2 – Business Christmas greetings without a gift; 3 – Christmas card with donation reference; 4 – Texts without an explicit Christmas reference; 5 – Appealing quotes for cards and business Christmas greetings
---
Card accompanying a gift
Dear Mr …, / Dear Mrs …,
we wish you and your family a Merry Christmas and a relaxing holiday season! Allow yourself some peace and enjoy this fine wine.
Have a good start into the new year, in which we hope to continue our success story!
Your (company/contact person)
---
Dear Mr …, / Dear Mrs …,
We would like to give you a special treat for Christmas. Since we know how much you enjoy French cuisine, we have chosen this cookbook for you. This way you can bring a piece of France home to yourself at any time.
We wish you a Merry Christmas and a Happy New Year!
Yours/Yours (company, contact person)
---
Dear …!
"Red wine is one of the best gifts for old boys." That was already said by Wilhelm Busch and there is nothing to add to that. Thank you for all the business ups and downs we have experienced together for decades!
In this spirit, Merry Christmas to you and your family!
Yours / Yours (company / contact person)
---
Dear Mr …, / Dear Ms …,
thank you very much for your trust in us! As a small token of our thanks, we present you with our Christmas greetings, which we hope will make your daily planning easier!
We wish you a Merry Christmas and a Happy New Year!
Your (company/contact person)
---
Dear Mr …, / Dear Mrs …,
Is it Christmas again? Not quite yet, but soon. To increase your anticipation of the most wonderful of all celebrations, we have enclosed a little something with this card. We hope you enjoy it!
See you soon in the new year!
Yours/Yours (company, contact person)
Christmas greetings business without gift
Dear Mr …, / Dear Ms …,
Now the quiet time has come again, when we all take a moment to reflect on the essentials. For us, this also includes reliable partnerships, without which the success of our company would be unthinkable.
We consider ourselves fortunate that you have once again stood firmly by our side this year. Happy holidays to you and your family!
Yours/Yours (company, contact person)
---
Dear …, / Dear …,
we are all still thrilled by the verve with which you saved our project from what we thought was certain doom. That was just great!
On behalf of our whole team, I wish you a great Christmas and a brilliant start into the new year! And of course we hope that you will be back for the next project!
Your XY from the XY project team
---
Dear Mr …, / Dear Ms …,
we wish you and your staff a magical holiday season and relaxing holidays! Come well into the new year and above all stay healthy!
Yours / Yours (company / contact person)
---
Dear Mr …, / Dear Ms …,
Thank you very much for the excellent cooperation in the year that is coming to an end! Have a good rest over the holidays and enjoy the contemplative hours with your family!
Yours / Yours (company / contact person)
Christmas card with donation notice
Dear …, / Dear …,
Advent is always a time for reflection. And during this time we have realised that we are basically very well off – and that unfortunately there are many people in the world who are not.
That's why this year we bought children's toys and sweets and packed them in boxes for the "Christmas in a Shoebox" campaign.
We hope this is also in your spirit and wish you and your loved ones a wonderful Christmas with lots of time for you and a good start into the new year!
Yours … / Yours … (company, contact person)
---
Dear Mr …, / Dear Ms …,
we wish you and your family a Merry Christmas with many wonderful moments and a Happy New Year!
You may be surprised that you do not receive a gift from us today. That is because this year we have decided to give presents to people who are not as favoured by life as we are. That is why our entire Christkind budget goes to the joint project of Bread for the World and Misereor.
How much we appreciate you as our long-standing customer cannot be expressed with gifts alone anyway. We look forward to providing you with our best service in the years to come.
Yours/Yours (company, contact person)
---
Dear Mr …, / Dear Ms …,
With this Christmas greeting we would like to thank you very much for the trust you have placed in our company again this year. We wish you a relaxing holiday season and a happy new year!
We have not forgotten your gift, but this year we would like to use the budget earmarked for it differently for a given occasion.
We are sure you have also heard that our district was hit by a major flood two months ago and many houses became uninhabitable. With our donation, we would like to ensure that the affected families can celebrate a wonderful Christmas despite everything.
Thank you for your understanding!
Kind regards
Yours/Yours (company, contact person)
Texts without explicit Christmas reference
Dear Mr …, / Dear Ms …,
Another year has passed. We would like to thank you for the excellent cooperation over the past twelve months!
Enjoy the holidays and recover well from the extremely eventful business year! We look forward to welcoming you again in 20XX.
Yours/Yours (company, contact person)
---
Dear Mr …, / Dear Ms …,
how time flies. No sooner was it summer than the days are getting shorter and the smell of snow is in the air.
Treat yourself to some well-deserved time off between the years. We hope that our enclosed gift will make a small contribution to this. And that you will support us again in our projects in the new year!
Yours/Yours (company, contact person)
---
Dear Mr …, / Dear Ms …,
I wish you and your staff a peaceful and relaxing holiday season and a good start to the new year! This is what the management of the competence team and the entire staff wish you.
Thank you very much for the trust you have placed in us, especially this year. We are very happy to be part of the XX project in the new year as well.
Until then, best regards
Yours/Yours (company, contact person)
Appealing quotes for cards and Christmas greetings business
Thoughtful
The secret of Christmas is that in our search for the great and extraordinary, we are pointed to the inconspicuous and small. (unknown)
Christmas is not a season. It is a feeling. (Edna Ferber)
Christmas candles shine again and conjure joy in all hearts. (unknown)
No one can buy the most precious gifts, and yet everyone can afford them. (Jochen Mariss)
There is a fulfilled life despite many unfulfilled wishes. (Dietrich Bonhoeffer)
When we realise that the time we take for another person is the most precious thing we can give, we have understood the meaning of Christmas. (Roswitha Bloch)
That is the miracle of the Holy Night, that into the darkness of the earth the bright sun shines. (Friedrich von Bodelschwingh)
You can only have peace if you give it. (Marie von Ebner-Eschenbach)
Poems
Time for love and feeling,
today only outside stays cool!
Candlelight and the smell of biscuits,
Christmas is in the air!
(unknown)
The message of Christmas:
There is no greater power than love.
It overcomes hatred
as light overcomes darkness.
(Martin Luther King)
From heaven to the deepest crevices.
A mild star laughs down.
From the fir forest scents rise
And breathe through the winter airs,
And the night becomes as bright as a candle.
(Theodor Storm)
[td_smart_list_end]
---
How to design your Christmas cards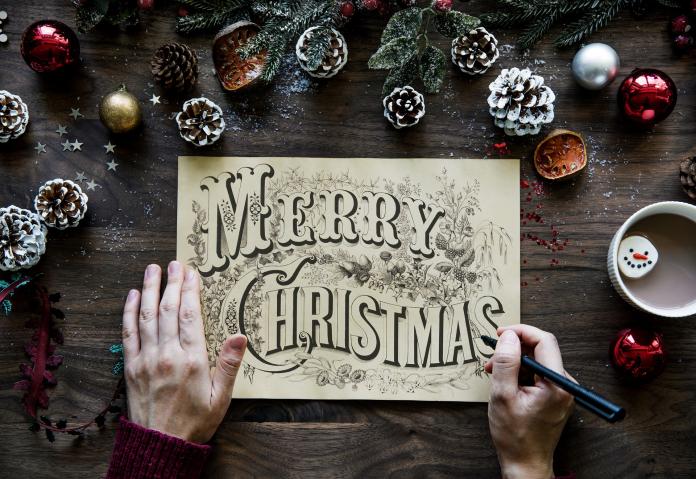 1. Determine the format
Certainly, an unusual card shape such as a fir tree or a Christmas tree ball looks particularly appealing and tempts you to keep greetings that stand out from the crowd like this for longer than usual. However, this is only really an option for a very small print run. If you want to delight hundreds of customers at Christmas, the easiest way is to use standard formats:
The folding card in DIN A6 is THE format among Christmas cards and looks high-quality when the paper quality has grammages of 250 to 400 g/m2. Shiny surfaces and a little glitter go particularly well with Christmas. But a matt version also looks very classy. In our online shop there are also explicit Christmas folding cards and Christmas folding cards with effect colours.
The postcard in DIN A6 is of course also a classic, which is also the cheapest in terms of production and shipping. But here, too, you can add highlights, for example, with partial finishing of a lettering. Or you can choose Christmas postcards or Christmas cards with effect colours. Disadvantage: If the card arrives at the recipient without an envelope and possibly a little battered, this can make an undesirable impression. However, it is ideal as an accompaniment to a gift.
2. Graphic design
The visual appearance of cards obviously plays a major role, which is why ready-made cards from the shops are almost self-explanatory. But how do you design an attractive Christmas greeting?
Motif
The first thing to consider is the motif. Should it be something classic or something original? No matter what you choose, it should fit your company as well as your customers and business partners. While a manufacturer of stair lifts is more likely to work with conventional Christmas motifs, the funky agency could have a tipsy reindeer that gets lost adorning the card. In case of doubt, it's better to go for the tried and tested than to try to be innovative.
Can't find anything that meets your expectations? If you use our online design editor, you have access to professional images from Shutterstock. There is sure to be a suitable motif there for your Christmas greetings.
Company logo
The company logo is also important and should be discreet for greeting cards, especially for Christmas greetings. Under no circumstances should it be included in the actual text. It should be on the envelope and, in the case of a folded card, it can appear on the part that is not written on. But here, too, it should be small and not too bold.
Back side of postcards
With classic postcards, the back must also be taken into account. If you design the whole thing yourself, you need to pay attention to the necessary elements: Lines for the recipient's name, address, country and a placeholder for the stamp as well as the franking and coding zone. It's easy to do with our free templates for the back.
Tip: Design Christmas cards online and order them right away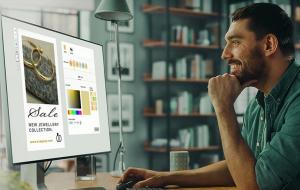 It doesn't get much more personal and individual than this: greetings on completely self-designed Christmas cards. With our online design editor, creating cards is a breeze.
You decide on a particular card and specify the edition, paper etc. Then click on Create design online, choose a layout template and you're ready to go: Upload your texts, images and logo, adjust colours and fonts.
You have no images of your own? Then choose your motif from the 20 million images of our cooperation partner Shutterstock. The high-resolution photos are pre-sorted in 70 different subject areas and offer numerous motifs, especially for Christmas. You can use the search function to tailor the selection exactly to your wishes.
You do not need to install a programme for the online design editor. All steps are carried out in the browser and are self-explanatory or explained. The result is an individual map tailored to your company and your target group.
Online design is available for many of our products (e.g. cards, business cards or even promotional items).
3. The text
Above all, as explained above, the personal touch is important. Of course, it is most beautiful if the entire text is tailored to the respective recipient. However, since this is only possible in a few cases, a generally suitable text must be found that can be added to personally. You can find some suggestions for this in our text templates.
Perhaps you are also still looking for a suitable saying for the front of the folding card or a gift tag? You can find such short Christmas sayings in this article: Sayings for Christmas cards: suggestions and free text templates.
Sources:
Image credits:
Roman Samborskyi, HabilePhotography, Bogdan Sonjachnyj, Tartila (via Shutterstock).
Nietjuh, Rawpixel (via Pixabay)
This article was first published in 2018 and updated in October 2023.